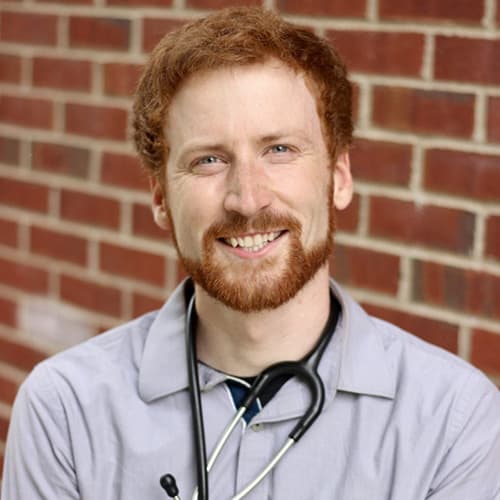 Dr. Johnathan Logas-Lindstrom
Dr. Jonathan Logas-Lindstrom has always held a deep appreciation for animals, nature, and medicine. This fascination led Dr. Logas to complete his B.A. in Biology, magna cum laude, from Gustavus Adolphus College. He explored various biology fields, but his love of animals and medicine always pulled him back to veterinary science. In 2018, Dr. Logas graduated from the University of Minnesota College of Veterinary Medicine. Dr. Logas believes in holistically caring for the human-animal bond and it is something he looks forward to doing for decades to come. His professional areas of interest include internal medicine, feline medicine and hospice care.
When he's not in the clinic, Dr. Logas can likely be found outdoors. Every summer, he and his wife spend at least a week canoe camping in the BWCA. They have also set up their tent everywhere from the coasts of Costa Rica to the tundra in Alaska. Closer to home, Dr. Logas enjoys honing his skills in birding, botany and mushroom foraging at local parks (he documented 242 bird species last year). They live in Saint Paul with two of the world's friendliest cats, Rawls and Zeno. With the cats in their adventure harnesses, the four of them spend many hours working on their vegetable and native wildflower gardens. Dr. Logas also enjoys weekly volleyball games, cooking delicious vegetarian food, and homebrewing.
Dr. Logas is committed to practicing veterinary medicine with integrity, transparency, and respect. He puts his patients and their family's needs first, which means providing honest answers and a willingness to find solutions that work for both you and your pet.
New Patients Welcome
New Hope Animal Hospital is accepting new patients! Let our experienced vets give your pet the comprehensive care they deserve. Reach out today to book your pet's first appointment.