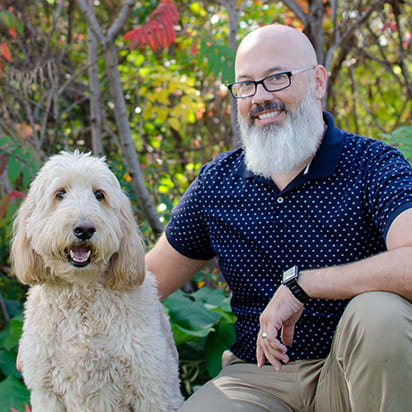 Jerry Hoffman
Jerry Hoffman, LVT, joined our team as the Hospital Manager in late September of 2021. He is originally from Virginia Beach, Virginia and moved to the Twin cities in October 2014.
Jerry has been working in veterinary practices since 1989, where he started out as a kennel attendant and Veterinary Assistant. He became a Licensed Veterinary technician in 2002 and started managing the three practice the doctor owned shortly thereafter. He brings a lot of experience to our team since he also worked for the American Animal Hospital Association.
He got to Travel across the US, Canada and Puerto Rico visiting hospitals and helping them improve. After Moving to Minnesota in 2004 he started managing practices again where he enjoys team education, and practice development. 
Jerry has two Large Doodles (one Golden and one Labradoodle) Luke who is 9 years old and Connor 4 years old.
New Patients Welcome
New Hope Animal Hospital is accepting new patients! Let our experienced vets give your pet the comprehensive care they deserve. Reach out today to book your pet's first appointment.